East Ward Woodland Escape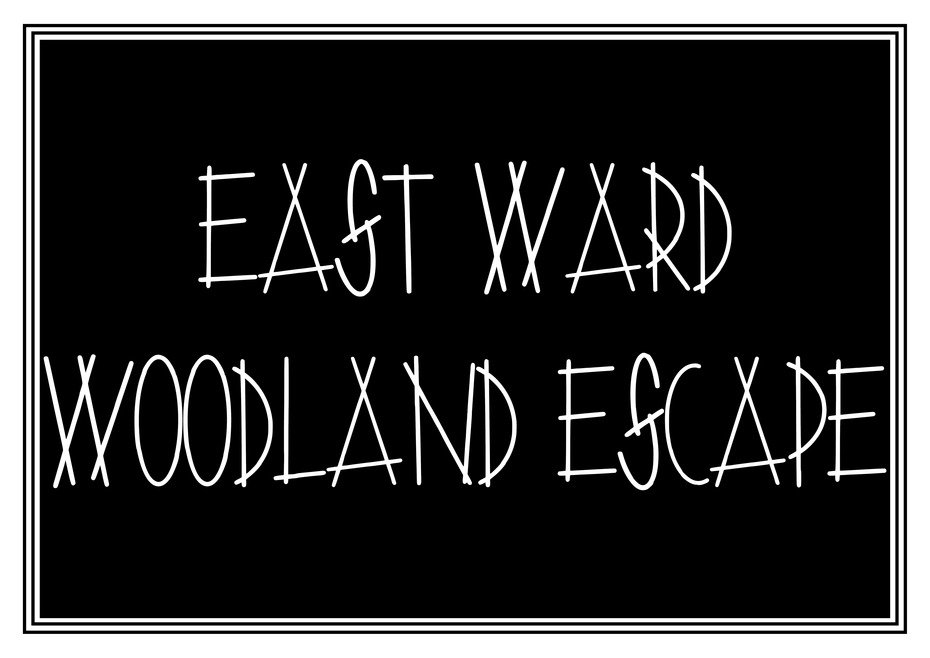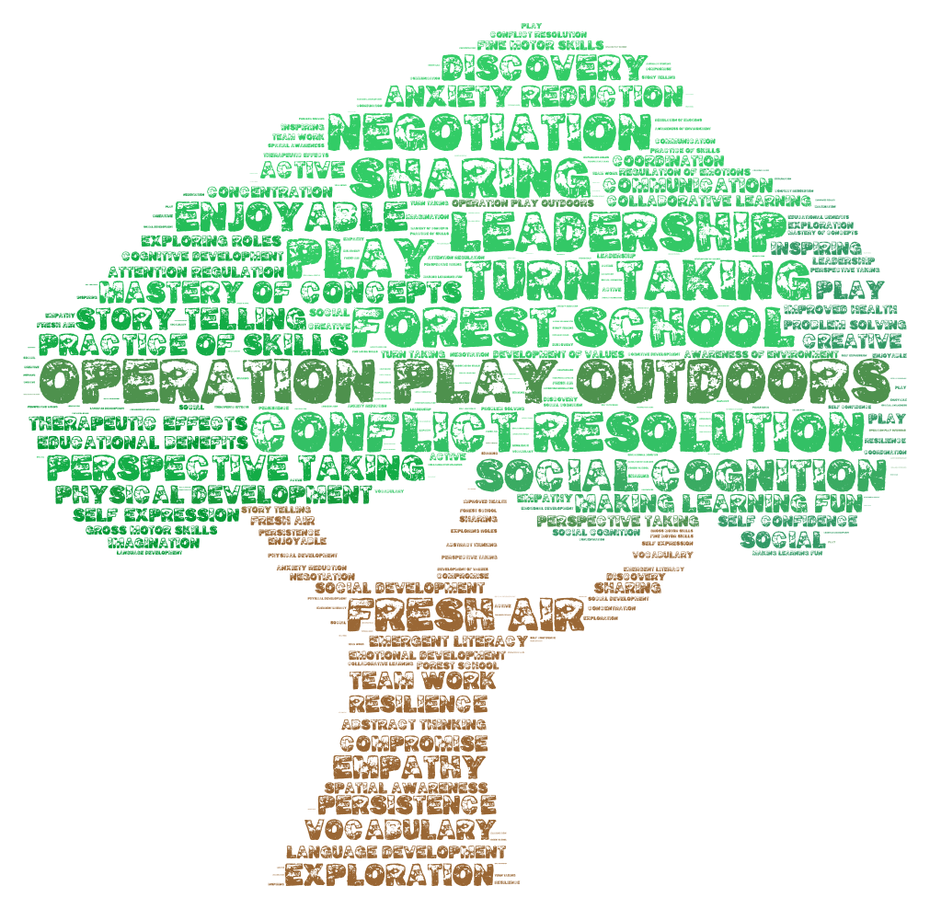 Research now backs up what forest school practitioners have known all along – that children and young people are stimulated by the outdoors and typically experience, over time, an increase in their self belief, confidence, learning capacity, enthusiasm, communication and problem-solving skills and emotional well-being.
Forest School sets learning in a different context for children where they can undertake a range of practical activities and carry out small achievable tasks. At Forest School children can develop their team working skills and also learn to become more independent. Those who are unfamiliar with woodlands and green spaces can become confident in using them and this can form the basis of a life-long relationship with natural spaces.
The 'wild', and yet controlled, safe environment of Forest School ensures that children taking part naturally learn to assess risk and are encouraged to make sensible and informed decisions about how to deal with unfamiliar and unpredictable situations (such as exploring or climbing trees, using tools to build shelters and dens). Much of the learning for a child comes as a result of the opportunities they have for testing their own abilities in a real life context.
Building confidence and independence through learning outdoors
Feeling empathy for others and nature
Physical fitness
Health benefits
Improved mental health
Learning by experience
Exposure to manageable risk
Better sleep and mood
Rich supply of resources and materials for use in other curriculum areas
Opportunities to involve parents and wider community
Chance for staff to observe students in a different setting
Opportunities for staff to learn new skills, and enjoy the benefits too!
Offers an alternative to our over reliance on digital and electronic sources for recreation, learning, socialising
Offers an opportunity to become fitter and healthier
Participants learn to recognise and assess risks for themselves
The new outdoor learning space will be made many different areas:
Fire pit - The fire pit area will be one of the main features of the East Ward Woodland Escape. Campfires are an important part of Forest School and are used in many sessions. Sitting around the campfire as a group: learning, listening, singing, making and sharing food cooked on the fire is a wonderfully communal and magical experience for children. Children will be introduced to tools and fire in a controlled and progressive way so that they learn about managing risk for themselves. They will learn to ensure the safety of both themselves and for others by learning simple safety procedures under the close supervision of the forest school leader. They will benefit from improved fine and gross motor skills, confidence from achieving something from using tools, communication skills, teamwork, coordination and designing and planning skills.
Outdoor Classroom - An outdoor space for children to learn in and for demonstrations about various activities to be given.
Art Area - We are going to have an area with a blackboard that the children and teachers can use to display information or ideas. It can also be used as a platform for Art and DT. This can also double up as an area for the younger children to use mud to draw and paint with. The outdoor learning environment is proven to encourage children's imaginations and creativity.
Music Station - We are having a music station which will be a permanent home for our collection of Boom-Whackers and old percussion instruments. This will be an area where children can express themselves freely and as loudly as they like while outdoors. There will also be a collection or percussion instruments outside for all ages to use and learn with. The music station will provide a range of sensory activities and exposure.
Wild Flowers Entrance - This will be the grand entrance to the East Ward Woodland Escape where a range of wild flowers and plants will welcome our children into the fenced woodland area. Once the children are inside they will be immersed in a range of different activities and will be able to get involved with a different aspect of school life.
Bug Hotel - This will be an area where the children can learn about the habitats and living conditions of different bugs, creatures and mini beasts! This area encourages the insects to pollinate the flowers, and the children can learn about the pollination and life cycles. This structure can be built and changed as desired depending on the learning objectives being covered.
Herb Garden - We will be planting a herb garden to help teach the children about sustainability and providing for themselves. This garden will provide sensory experiences for the children and will need them to be responsible in the care and management of the herbs. The watering will need to be monitored and this will provide a good sense of responsibility for all the children, SEN included. We will be growing Chives, Thyme, Rosemary and Mint.
Mud Kitchen - Mud play creates the opportunity to practice social skills and help children make sense of the world; to actively learn through play whilst importantly having fun. Many children are drawn to mud and messy play and even those that are at first less keen, quickly gain confidence as our kitchens provide them with an interesting, safe and contained area to encourage them to start exploring. Research has shown that there are numerous benefits to playing with mud; it encourages creative thinking, helps develop positive dispositions, improves cognitive function, is good for building a healthy immune system and has been shown to make children happier.
Den Building Area - The purpose of our building area is to promote creativity, boost self esteem and encourage team building within our students. All of the skills gained by the children while engaging in activities at Forest School can be transferred into a classroom environment. This should make our children more resilient and strengthen problem solving skills. This area will allow the children to engage in open ended learning once given an objective for the end result. Children will plan and promote their own physical development through play. Play is the effective teaching strategy of Forest Schools and it develops the brain, helps with language development and the development of speaking skills.
Pond with Fish - Our Pond will provide a home for wildlife which in turn adds a huge learning potential to our garden setting. We will cover the pond with a metal grid so that children are unable to fall in. Water is a welcome addition to any garden, and it is especially attractive to wildlife. Our pupils will get much enjoyment from the creatures that visit an area of water in your school garden, and it will also provide a basis for a range of learning circulated around marine life.
Much research has been done over the last decade into the benefits of outdoor learning and Forest Schools in the UK. In our own experience of running FS programmes since 2006 we know of many benefits to participants both immediately through direct observation and in the longer term through subsequent evaluation by schools and groups.
Forest School has been seen to:
Encourage emotional growth, self reliance and independence, allowing participants to take responsibility for their own learning and development
Promote holistic and individualised development through the encouragement of child initiated projects extended with sensitive adult support
Allow development of respect and care for the natural world, and increase children's knowledge and understanding of the outdoors
Improve physical strength and stamina through regular access to a varied and challenging environment
Increase practical skills, coordination and dexterity through the use of tools and natural resources to make chosen artefacts
Help build personal and social skills and to aid the building of relationships within real life contexts
Enthuse participants to transmit their experiences through writing, storytelling and pictures back in their educational setting
Extend knowledge and enthusiasm of the programme at home, as children are keen to show their skills and encourage family members into the outdoors
Be an important factor in choice of further study and employment.
WE STILL NEED YOUR HELP!!!! PLEASE READ ABOVE......